Tweet
Siapa yang suka nasi ayam? Haa... kalau korang kat Penang, korang boleh try Nasi Ayam Black Pepper di Noreen's Taste. Ini restoran kawan baik Elle, Zetty bersama husband-to-be bulan 6 ni, Rozaimi. Baru jer buka tak sampai seminggu. Still simple lagi kedainya.
Menu istimewa ialah Nasi Ayam dan korang boleh pilih salah satu dari 3 perisa ni.
1. Black Pepper (Recommended) - RM4.50
2. Percik - RM4.50
3. Golden Roaster - RM4
Other menu:
#Bihun Sup - RM3.50
#Mee Bandung Tradisional - RM3.50
#Bihun Tomyam - RM3.50
#Nasi Goreng Pedas - RM3.50
Opening Hours - 12pm to 12am
Ada macam-macam menu lagi disediakan. Elle pilih Nasi Ayam Black Pepper dan Mr Hall pula pilih Nasi Ayam Percik.Berselera Elle makan sampai licin pinggan. Minuman special pula ada jus strawberi. Semestinya Mr Hall ler. Dia nak yang special jer.
Mari layan gambar-gambar ni.
[Selamat datang Uols]
[Nasi Ayam Black Pepper]
[Nasi Ayam Percik]
[Teh O Panas]
[Jus strawberry]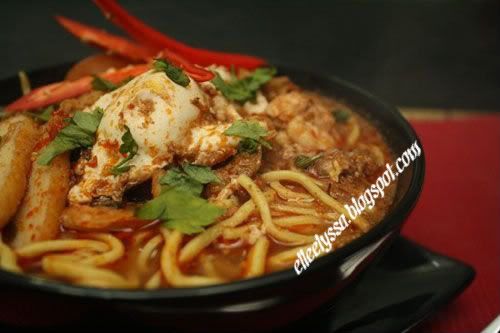 [Mee Bandung. Thanks Zetty for the pic]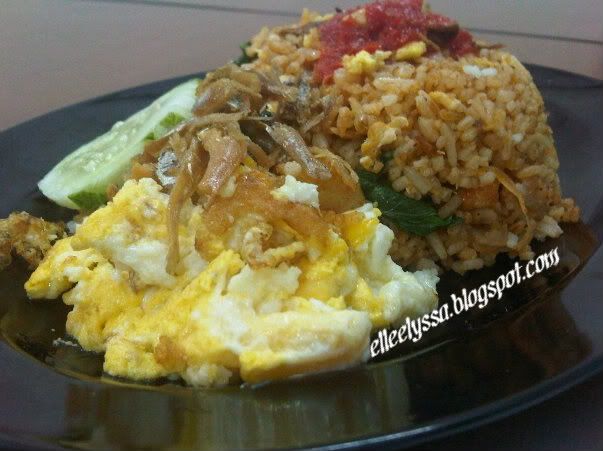 [Nasi Goreng Pedas]
Elle dan Mr Hall bangga dengan kawan Elle ni sebab dah ada bisnes sendiri bersama bakal suami. Sebab tu Elle teruja sangat datang ke kedai ni untuk bagi sokongan sambil mengisi perut. Sekarang kan banyak sangat kedai-kedai tomyam. Sometimes nak jugak makan menu simple-simple macam bihun sup dan nasi ayam. Korang bolehlah cuba di Noreen's Taste ni. Terutama sekali kepada student USM. Jalan kaki jer ke sini bila lapar. Malas nak makan kat kedai tapau (bungkus/take away) jer.
Elle harap bisnes mereka akan maju dan dengar kata dari ownernya, ada beberapa menu lagi akan ditambah. Tak sabar pula nak kembali ke sana lagi untuk mencuba menu seterusnya.
Lokasinya di Plaza Ivory, belakang USM. Satu building dengan Nasi Kandar Istimewa yang bertentangan dengan Merrybrown. Refer to the map below. Yang berkotak merah tu ler tempatnya.
Alamat / Address:
2-1-11 Ivory Plaza


USM Place, Jalan Bukit Gambier

11700
Gelugor

,

Penang

.